Mojo
// August 2010 nr. 201
Christopher EcclestonLots of Planets Have A North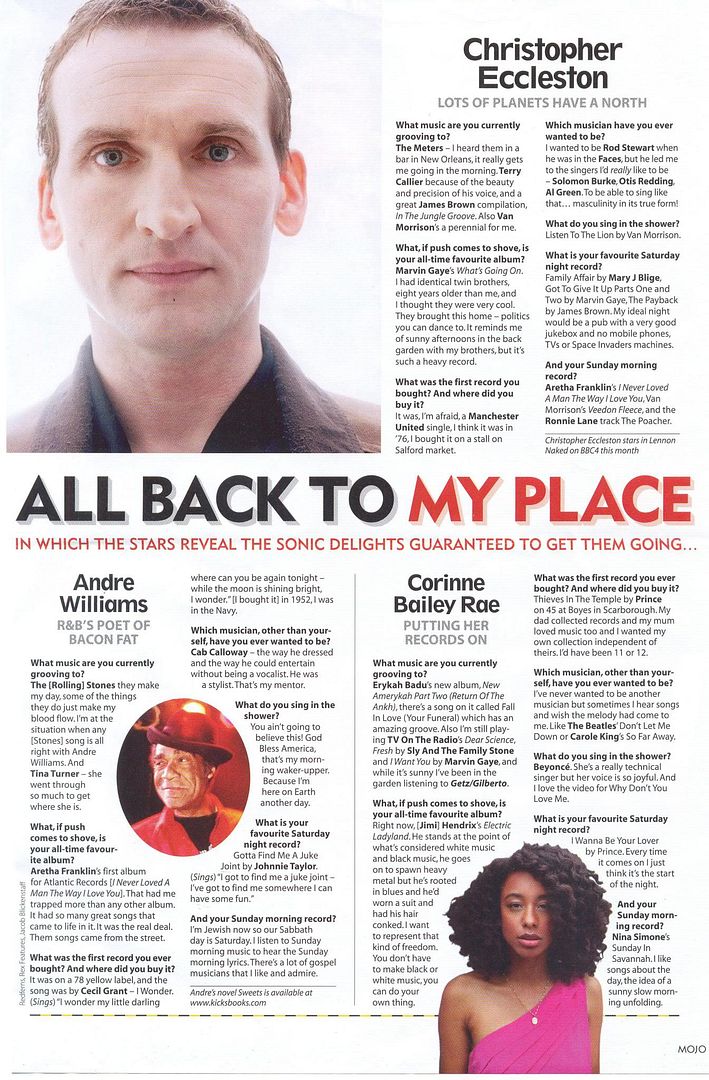 What music are you currently grooving to?The Meters
- I heard them in a bar in New Orleans, it really gets me going in the morning.
Terry Callier
because of the beauty and precision of his voice, and a great
James Brown
compilation
In The Jungle Groove
. Also
Van Morrison
's a perennial for me.
What, if push comes to shove, is your all-time favourite album?
Marvin Gaye
's
What's Going On
. I had identical twin bothers, eight years older than me, and I thought they were very cool. They brought this home - politics you can dance to. It reminds me of sunny afternoons in the back garden with my brothers, but, it's such a heavy record.
What was the first record you bought? And where did you buy it?
It was, I'm afraid, a
Manchester United
single, I think it was in '76, I bought it on a stall on Salford market.
What do you sing in the shower?
Listen To The King
by
Van Morrison
.
Which musician have you ever wanted to be?
I wanted to be
Rod Stewart
when he was in the
Faces
, but he led me to the singers I'd
really
like to be -
Solomon Burke, Otis Redding, Al Green
. To be able to sing like that... masculinity in its true form!
What is your favourite Saturday night record?
Family Affair by
Mary J Blige
, Got To Give It Up Parts One and Two by Marvin Gaye, The Payback by James Brown. My ideal night would be a pub with a very good jukebox and no mobile phones, TVs or Space Invaders machines.
And your Sunday morning record?
Aretha Franklin
's
I Never Loved A Man The Way I Love You
,
Van Morrison's
Veedon Fleece
and the
Ronnie Lane
track The Poacher.
Christopher Eccleston stars in Lennon Naked on BBC4 this month
©
Mojo
NB In the same edition of the questionnaire is Andre Williams, who appeared with Eccleston in Almereyda's film 'New Orleans Mon Amour' (hence full page).